Augeo Software has released a new version of Planzone, the Collaborative Project Management Software. The new interface design makes your life easier by providing a better workflow, a fresh and modern design, and several major improvements in the project scheduling.
Collaborative Workspace
First of all, Planzone is a collaborative workspace designed for non-techies. No need to be an expert to manage your project!
Each collaborative workspace is organized arround a project which is shared by several members. The workspace contains an area to manage simple todos lists, another area to share files and write online documentation, a discussion area and last but not least a project schedule area to plan and track the progress.
Todos
Beginners will start by using todos only. This is the easiest item to manage. In that manner, Planzone is very close to Basecamp. Planzone V2 brings several improvements on the todo area. First the design clearly shows what the todo is, the fact that it now has a shape makes you feel you can move and do something with it.
Second, project todos can now be grouped by date, priority and team member. Before a meeting, a project manager can group by team member, print the sheet and discuss with the team with a clear vision of tasks assigned to each other.
When the number of todos increases, it's easy to create a todo list (called activity in Planzone).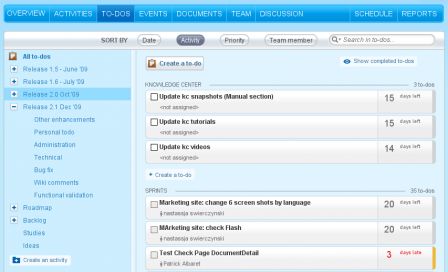 File and online documentation
While the project evolves, team members will share files in the document storage area. You can upload and share any type of file and there is no real limit for the file size (you are limited by the license).
In Planzone V2, the file and online documentation are now grouped under the same area: Documentation.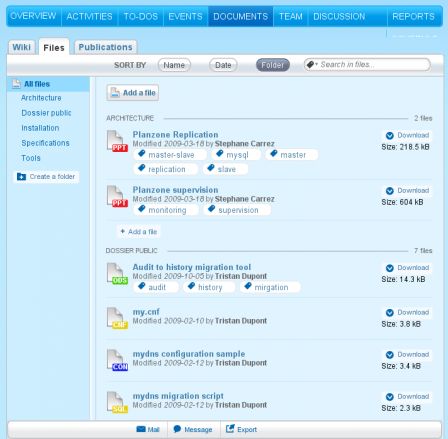 The online documentation is provided through a simple Wiki. Don't expect to write complex documents such as those you can write with Microsoft Words. Wikis are intended to be fast and efficient to write simple text, with sections, bullet lists and minimal formatting. Two editors are provided, a visual editor which allows you to write documentation without knowing the wiki language, and a text editor which is rather basic but more powerful if you know some wiki markers and best if you know some CSS (here, it's for expert!).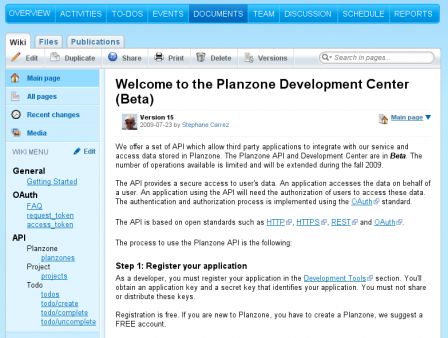 Discussion
The discussion area provides a central point where team members will share comments on the project and the work to do. Discussions and comments are associated with the project , activities, todos, milestones and documents (comments on wiki will come shortly). The major change in Planzone V2 is the ability to see in one place all the comments related to the project.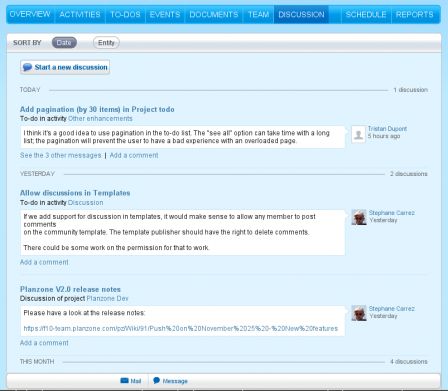 Project Scheduling
When the project grows or is complex, the project manager has to plan and split the work in several activities. Activities are scheduled over time, they can contain todos as well as milestones (A next version will allow to attached documents). The project schedule area is dedicated to this work.
The project scheduling contains many improvements that help the project manager. First, the resource assignments are now made exclusively from the project schedule page. It becomes easier to manage activity assignments and resource allocations. You expand or collapse the activity assignments and you can add, remove or change the resources while having the project schedule in front of you. This is a major improvement which makes the scheduling area a killer feature.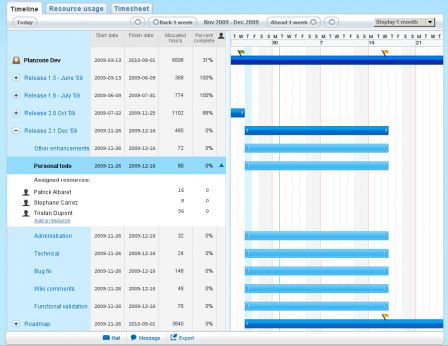 On the project resource usage side, the timeline displays the consolidated remaining work for each resource and the expand collapse of each resource makes this part quite neat and easy to use.
Try Planzone!
Planzone offers a free version of the service. Of course the free version is limited but you can still manage complex projects with small teams (5 persons). Prices range from 9.90EUR/month for the individual license to 69.90EUR/month for the business license.
Give it a try and leave me some comments. Signup for a free Planzone.